GoCab
From, excl. VAT and shipping
Description - electric bicycle cab GoCab
The GoCab is a special electric cargo bike/cycle cab for child transport. In this bike, 8 children can be transported safely. The GoCab is standard equipped with electric pedal assistance, making it very light and easy to steer.
With the electric pedal assistance, this bike comes as a Smart E-Bike. This allows you to take a look at a lot of information about the bike, from a mobile device. For example, you can use the app to view bike routes and see where your bike is parked - this is especially good against theft. The operation of the child transport bike is just like a normal bike, featuring a regular bike handlebar and hand brakes.
The GoCab is very suitable for organizations that want to transport several children and value safety, environment, and fun for the children. The bike is used as a after-school care bike, as an alternative to a cab van or other means of transport-to-transport children from preschool to school.
The GoCab has been extensively tested and meets all legal (safety) requirements to safely transport 8 children. This has been confirmed by the Human Environment and Transport Inspectorate (ILT). The GoCab bike has been thoroughly checked on the high safety requirements. Such as a separate hydraulic braking system, whereby each independent part is always stronger than the motor and the hand brakes can always be used to brake. At the front and rear, the bike is equipped with hydraulic brakes and an additional mechanical parking brake so the children can get on and off safely. In the sturdy solid seating area, the children are fully protected in the seatbelt. Hence the GoCab being a "normal" bike, there are no special requirements or insurance such as a helmet obligation. The rider of the bike is not required to wear a helmet and does not need a special driver's license or driving instruction.
Optionally, the GoCab can be expanded with a tarpaulin, so the children are always seated dry.
The GoCab has won many (international) awards and prizes.
Standard facilities
8 gears

Hydraulic disc brakes

Eco-friendly powder coating

Mechanical parking brake (marked red)

ART approved chain lock, bell, and lights

8 seats with 8 color-marked belts

Mirror(s) for driver

Pedal assistance with reverse cycle function

Five-year warranty on frame and fork

Free E-Bike cycling app

Under tarpaulins in lime green/black

Top frame with rollbar function
Customer experiences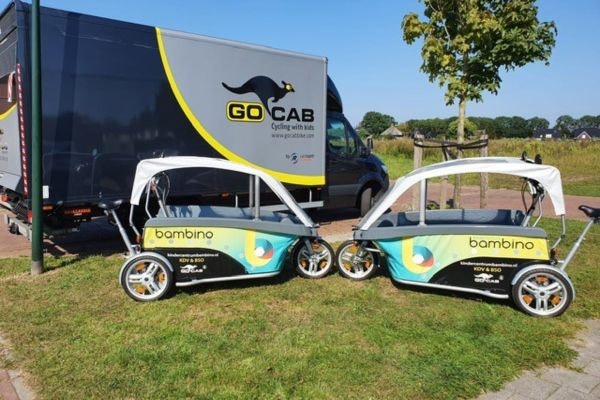 Customer experience GoCab bicycle cab - Bambino
Childcare center Bambino purchased two GoCabs in September 2021. They are very excited about the cargo bikes.
Read this customer experience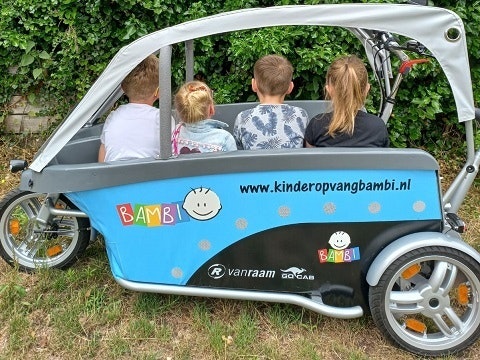 Customer experience GoCab bicycle cab - Bambi
Daycare Bambi has been using the GoCab for quite some time. Read more about their experience with the bicycle cab here.
Read this customer experience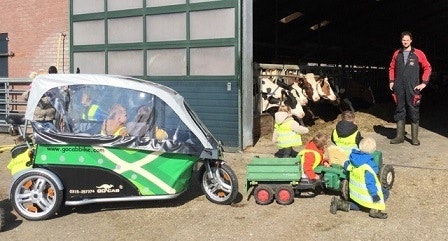 Customer experience GoCab bicycle cab - Avonturijn
For an outing to the farm, childcare center Avonturijn in Warnsveld used a GoCab bicycle cab as a means of transportation. Read their experience with the GoCab bicycle here.
Read this customer experience
;
Specifications
| | |
| --- | --- |
| SKU | 367-0000 |
| Inside leg length (adjustable) | 80-95 cm |
| Boarding height back (adjustable) | 24 cm |
| Weight bicycle | 152 kg |
| Max. cycle length | 257 cm |
| Max. cycle width | 110 cm |
| Wheel size front | 20" |
| Wheel size back | 20" |
| Brakes | Hydraulic brakes |
| Max. User weight driver | 120 kg |
| Max. user weight passenger | Total 280 kg |
| Price | €8.575 (From excl. VAT and shipping) |
Do you have any questions?
We are happy to assist you! Please check our contact page or contact us directly using the options below.